Make yourselves Comfortable
A downloadable game for Windows and Linux
CE JEU EST DISPONIBLE EN ANGLAIS ET EN FRANÇAIS
THIS GAME IS AVAILABLE BOTH IN ENGLISH AND IN FRENCH
FRANÇAIS :

Trèfle et Owlen doivent livrer un curieux collier à un riche excentrique dont iels n'ont pas retenu le nom. En attendant d'être reçus, iels explorent le salon, qui pourrait révéler bien des surprises...
Ce jeu a été réalisé afin de me familiariser avec RPGMaker VX Ace ! Il est relativement simple et court, mais vous pouvez choisir entre deux protagonistes, et il y a quatre fins disponibles ! N'hésitez pas à recommencer (ou a recharger une sauvegarde) et à tout explorer !
Une partie devrait durer 15-20 minutes, et trouver toutes les fins devrait prendre aux alentours de 45 minutes.

ENGLISH:
Trèfle and Owlen have to deliver a curious necklace to an excentric gentleman whose name they didn't catch. While waiting for their client, they explore the living room, which could hold a few surprises...

I made this game to familiarize myself with rpgmaker vx ace ! It's rather short and simple, but you can choose between two protagonists and there are four endings ! Don't hesitate to restart the game (or reload a save) and explore everything !
A game should be 15-20 minutes long, and finding all the endings should take around 45 minutes.

IMPORTANT NOTE ABOUT THE ENGLISH VERSION !

Sadly, I had a few issues with the translation software, resulting in this :

During battle(s). That's the only place where it shows up, and it shouldn't be too intrusive. It will probably make the battle flavor text a bit confusing and hard to read though, and for that, I apologize.

Other than that, english isn't my first language, and it's entirely possible that typos and weird sentences snuck in, so if you notice anything off, do tell me ! I will do my best to fix it.
CREDITS :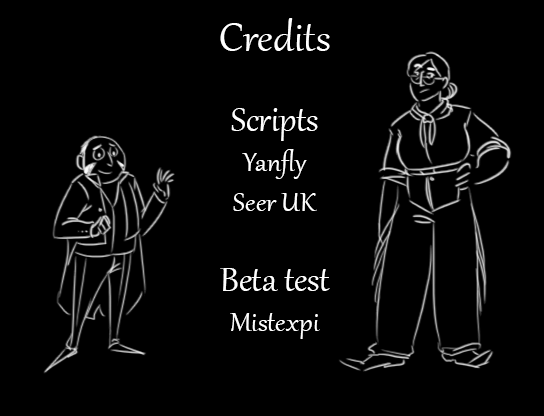 Download
Click download now to get access to the following files: